Working...

Light the Night at Palisade Pioneer Days 2017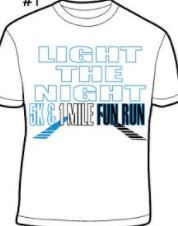 The Wauneta-Palisade Class of 2018 is hosting a "Light the Night" run at Palisade Pioneer Days. The run will be on June 9 at Krotter Park in Palisade. Registration starts at 8:30CT, and the races will begin a 9:00CT. Because our races will be in the dark, we will be providing glow sticks to all participants! Please register by May 26 to ensure a shirt. You can also register by contacting Betsy Johanson at school, or at the Credit Union in Palisade. Registrations will be taken up until race time, but you will not be guaranteed a shirt. Questions? Contact Betsy Johanson at the school (308-394-5700), or email bjohanson@wpbroncos.net.
Click here to print the paper registration form
OR, fill out the online registration form below:
Your Name:
Division:
Shirt type:
Shirt size:
(Not guaranteed if you register after May 26.)
Please bring entry fee ($20 for 5K, $15 for one mile fun run) day of the race, check (make payable to Wauneta-Palisade Public Schools) or cash.
Comments:
*required fields