DCS Track Invite on April 3, 2018 with updated schedule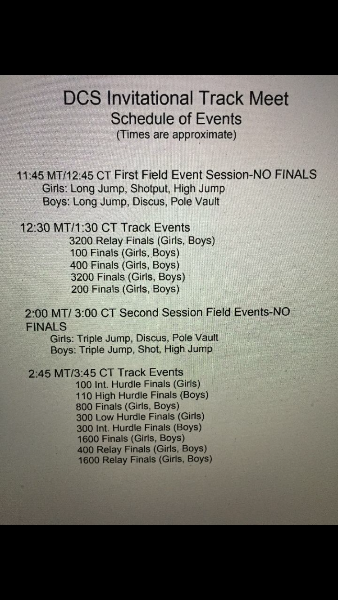 The Dundy County Stratton Invite will be held on April 3, 2018.The first session field events start at 11:45 AM MT. Track Events-Prelims start at 12:30 MT. Second Session Field Events start at 2:00 PM MT, and Track Events-Finals begin at 2:45 PM MT.
Participating Schools: Arapahoe, Cambridge, Dundy County Stratton, Maywood-Hayes
Center, Medicine Valley, Southwest, Wallace and Wauneta-Palisade.

Awards: Eight individual places will medal (10-8- 6-5- 4-3- 2-1), three places for relays, plaques for Champion and Runner-up teams.

Postponement: We will make every effort to notify schools in a timely manner. We will also
attempt to contact radio stations.
PLEASE NOTE THE CHANGES IN THE SCHEDULE OF EVENTS!!