WP Competes at State Quiz Bowl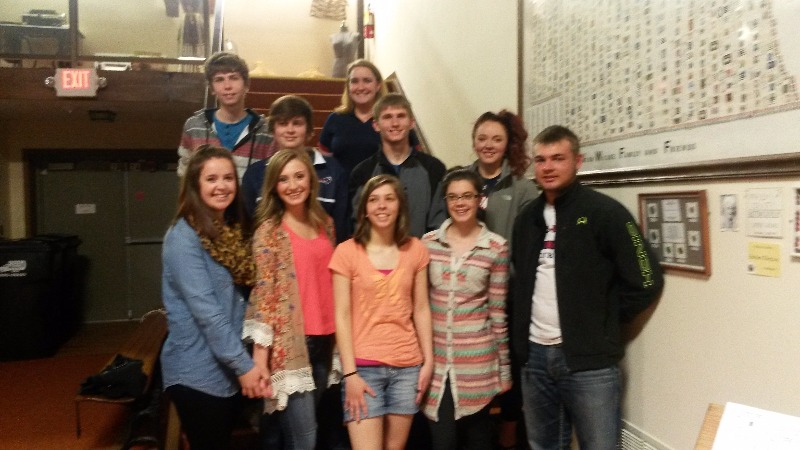 Front, L-R: Ellie Lee, Cameo Rector, Miranda Behrends, Kenna Blackman, Joe Sramek. Back, L-R: Paul Behrends, Lake Reikofski, Mrs. Loker, Greg Gaston, Colby Cox.
The Nebraska State ESU Senior High Academic Quiz Bowl was held in Holdrege on April 27, 2016. Twenty-nine teams from 15 ESUs competed at the 23rd annual competition, including: Auburn, Bellevue East, Columbus, Crawford, Diller-Odell, Elgin Pope John, Emerson-Hubbard, Friend, Gering, Gretna, Hastings, Holdrege, Humboldt-Table Rock – Steinauer, Kearney, Kenesaw, Medicine Valley, Nebraska Christian, Neligh-Oakdale, Norris, North Platte St. Patrick's,Ogallala, Rock County, South Sioux City, Southern, Valentine, Wauneta-Palisade, Wilcox-Hildreth, Wisner-Pilgner and Yutan. The championship went to the team from Gretna. Bellevue East came in second, and Hastings High was third.
WP Quiz Bowl sponsor Mrs. Jen Loker wrote, "Words cannot express how proud I am of the 2016 Wauneta-Palisade Quiz Bowl team. I believe the success of our team this year stemmed from the breadth of knowledge among our diverse team combined with the experience of our veteran competitors; it was a great combination. I am extremely thankful for the chance to work with our talented young adults and appreciate the amazing support from the staff, the administration and the Bronco Booster club. This was a great experience to be a part of!"
In the first round of competition, WP faced Gretna, a class B school, and the eventual State Quiz Bowl Champions. WP students fought hard and answered questions successfully, but Gretna's quick buzzing skills helped them secure the win.
In the second round, WP faced off with Auburn, a class C-1 school, and the eventual 4th place team. In this round, the team started off strong and successfully answered the first few toss-up questions, but wasn't able to secure extra points during the bonus questions, which let Auburn take the win.
Loker also writes, "While I would have loved to see the team compete in additional rounds, we faced some stiff competition. I believe the team enjoyed their success this year, were excited to compete in the state competition, and appreciated the opportunity to view the exhibits in the Nebraska Praire Museum. Without a doubt, I can tell that our team contains some of the most intelligent studens in the state. They represented Southwest Nebraska extremely well and I know they will be successful in their future endeavors."
WP Quiz Bowl team members include:
Paul Behrends (Captain), E
llie Lee,
Cameo Rector,
Joseph Sramek, Colby Cox,
Miranda Behrends,
Greg Gaston,
Kenna Blackman, and Lake Reikofski.